World War II "In Honor" Oval Magnet - 4 1/4" X 6 1/2"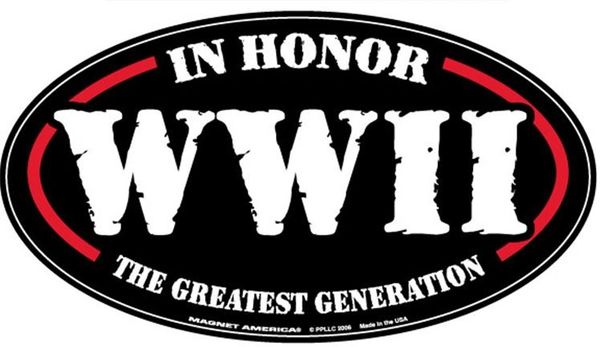 World War II "In Honor" Oval Magnet - 4 1/4" X 6 1/2"
With Gratitude and Recognition, a Donation in Memory of our Fathers, Grandfathers and Great grandfathers .

World War II "In Honor" Oval Magnet

Set of Two $10.00
Honor and support those who served in World War II. These magnets are a great way to honor a veteran or share your pride in the service of our country with others.
---
• Dimensions: 4 1/4" x 6 1/2"

•

Proudly Made in the USA

•
High Quality UV Protected Vinyl backed by a thick .030" magnetic material

• Great for your vehicle, refrigerator, or any metal surface!

With honor and tribute we will always remember the courageous self-sacrifice and generous spirit of the heroes of World War II.
Since their courageous entry into a war, the likes of which we can only image, they have given us three generations to expand their family name and heritage in the hopes that we may leave for the next generation a better world and forever hold their memory in our hearts.

Please make a donation to the 307th BG Final Flight Commemoration in honor of your father, grandfather or great-grandfather. A tribute to those who have passed and those who have held their ground to maintain the honor and tradition which we, the children, have pledged to live by.

Select your contribution above at [Quantity]. 1 = $10 2 = $20 3 = $30 4 = $40 5 = $50
Provide us with some detail of your honoree in the space above.
We will post your tribute on the Final Flight Commemoration Page on the 307th Website.
If you have a photo to add, please send it to member.services@307bg.net

You will be sent a final draft for approval prior to posting on the website.



< END >
AMKT.GM.AGN.ETAME.RICA7333
Reviews