FOM307BG - The Flight of the Malfunction (Deluxe Edition is a hardcover with color maps and selected pictures)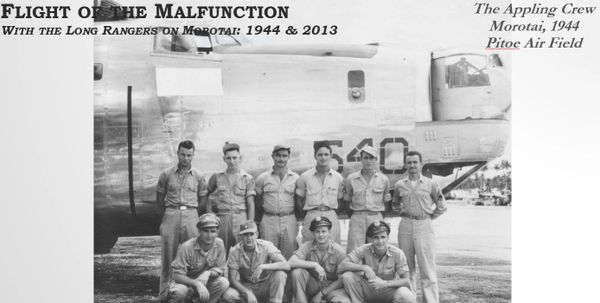 FOM307BG - The Flight of the Malfunction (Deluxe Edition is a hardcover with color maps and selected pictures)
The Flight of the Malfunction:
My 20 Year Journey to Honor All The Long Rangers
By Greg Babinski
More than 20 years ago, an envelope of charred military records launched me on a journey across four continents to learn about my father and his comrades in the 307th Bomb Group – The Long Rangers - before, during, and after WWII. In time for the 307th Bomb Group reunion in Shreveport in April 2017, my book was complete: The Flight of the Malfunction: Sergeant Walter Babinski - A B-24 Ball Turret Gunner in WWII.
Wally Babinski was just one of the millions of farm boys, factory workers, and kids just out of school who came together 75 years ago when America called them to duty. Trained to use the most advanced military technology of the time, they were sent to the far corners of the world to fight the enemies of freedom.
Flight of the Malfunction honors all the 307th vets. In addition to the military records, photos, and fragments that I got from my mom after dad passed away, I read every book about the 307th I could lay my hands on. I scrounged copies of the B-24 aircraft manuals that he used at Keesler AFB as an aircraft mechanic student, and discovered that he almost flunked out! I obtained copies of the gunnery manuals that he used at Laredo AFB. The Historian of Edwards AFB sent me valuable material about Muroc Field where dad and his buddies came together in Bomber Crew Phase Training in 1944. Librarians and historians from the cities and towns where he was stationed sent me newspaper clipping from the time so that I knew what life was like then.
Reviews