Dad's War Photos-Soft Cover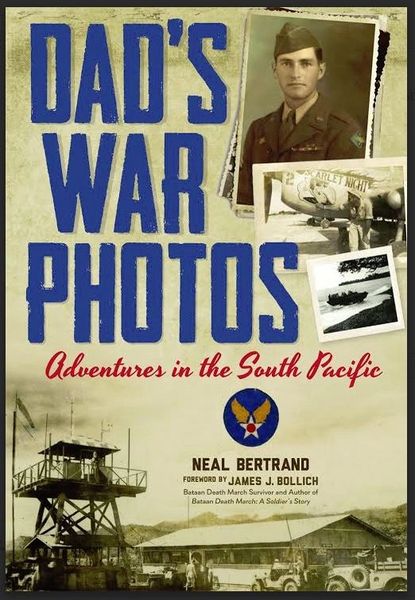 Dad's War Photos-Soft Cover
Dad's War Photos - Adventures in the South Pacific by Neal Betrand - Soft Cover

Curtis Bertrand was just a country boy with a camera when he entered the U.S. Army in World War II. He returned home from the Southwest Pacific Theater with over 600 photos to share with family members and friends, never realizing the importance these unique views of the war would provide.

Neal Bertrand, Curtis's son, often imagined what it was like for his dad to be in the South Pacific during World War II. A few days before his father passed away, he asked Neal to take care of the Japanese rifle and bayonet he found in Manila in 1945. It was then Neal decided to place in high honor the hundreds of photos his dad took during his tour of duty.
____________________________________________________
Excerpt:

My father brought his camera with him to the South Pacific and took over 600 photos during his three years in WWII. I published over 4oo of them in "Dad's War Photos: Adventures in the South Pacific." One of my most prized photos is the one where he is standing next to ace pilot Major Edward Cragg's P-38 named "Porky II" 11 days before it was shot down. This may be the last photo of this plane, taken on Dec. 15, 1943 in Dobodura, New Guinea.

_______________________________________________________
Note: Read the full story about the author and how he came to collect and catalogue his father's photo collection, discovering the unique significance about many of the "one-and-only" historic snapshots taken during his 3 year tour of duty.
Click here > http://307bg.net/news.asp
Reviews