307th BG Memorabilia Deluxe Flag-Display Case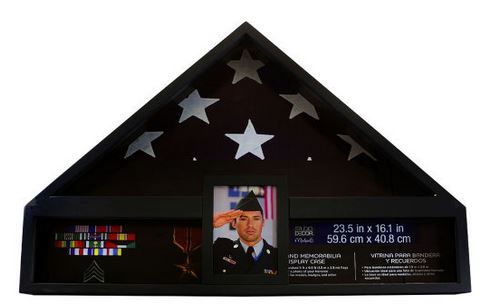 307th BG Memorabilia Deluxe Flag-Display Case
Honor your military veteran with this deluxe flag-display case, which holds a variety of commemorative treasures. Besides displaying a standard ceremonial flag, you can also display a photograph, numerous medals or other small memorabilia.
Details:
Black Shadowbox Case is 23.5" x 16.1"
Holds 5ft. x 9.5ft flag and 4" x 6" photo
Displays medals and badges
Removable back
Hanging hardware is pre-attached
Choose from three primary items.

Choose the Bomb Squadron and we'll add a USAF, 13th AF, 307thBG, and Long Rangers patch, or provide your own.
Choose Squadron Pins
Replicate Dogtags, or provide your own.
Provide awarded medals, or have them replicated.
Choose a Challenge Coin

This is truly a "Forever and Always" commemorative.

Check out the details, then decide!
Questions? Do you want to chat with someone about this product? Send an email with your phone number to member.services@307bg.net
< END >
AM.KTG.MICHA.ELSDG-7333
Reviews